When the Chinese government wants its stock market to go up, it goes up — a lot. It's happened several times in history.
It happened from 1996 to 1997 and again in 2005. (Heck, Chinese stocks soared fivefold in just two years starting in 2005, the last time the Chinese government wanted the stock market to go up.)
Today, the Chinese government wants the stock market to go up again.
Even better, Chinese stocks are incredibly cheap, and the uptrend has begun. In short, we have the perfect conditions for a triple-digit profit, courtesy of the Chinese government. Let me explain.
I first visited China in 1996. When I realized what was happening with the Chinese government, I recommended the largest blue-chip Chinese stock I could find to my readers.
You see, to push stocks higher, the government tried floating a variety of rumors. The government rumor that sparked the biggest rise was that China was going to allow local Chinese investors to buy shares of foreigner-only stocks.
Chinese stocks soared. My readers pocketed close to a triple-digit gain in a very short period of time.
But eventually, China's government worried that its rumors pushed up stocks too much. So it floated the opposite rumor. The company we'd pocketed nearly a double on eventually lost more than 80 percent of its value.
This has happened multiple times. The most recent time was in 2005, just before Chinese stocks soared fivefold. And it's happening again, today.
Last month, China's top securities regulator announced it would increase by tenfold the amount of money qualified foreign institutional investors are allowed to invest in Chinese stocks.
We have seen this play out before. China gets behind its stock market, and the market soars. It's already happening, as I write. And because Chinese stocks are so cheap, I believe we have an easy shot at triple-digit gains.
The Shanghai Composite Index now trades for the cheapest price-to-earnings (P/E) and price-to-book (P/B) ratios we've ever seen. In fact, Chinese stocks are even cheaper today than they were in 2005, right before the market soared fivefold in two years. Take a look.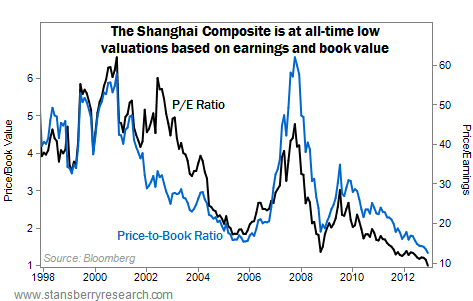 This index of blue-chip Chinese companies traded for more than 40 times earnings in 2007. And over the past 15 years, its average P/E ratio has been over 30. Today, this index trades for less than 10 times earnings.
Our starting point is basically the cheapest point in the history of the Shanghai Composite Index (based on the P/E and P/B ratios). 
Chinese stocks have bottomed, and we now have our uptrend in place. Even better, the Chinese government is doing everything it can to push the stock market higher.
If the 2005 to 2007 bull market is any indication, our upside potential is hundreds of percent.
You may want to consider the Market Vectors China Fund (PEK). It's a one-click way to trade the Shanghai Composite Index. Check it out.
Good investing,
Steve Sjuggerud
This article was originally published on Feb. 14 at DailyWealth.com.